Most (if not all) people who are thinking of selling their homes are wondering how long it takes to sell a house. The answer depends on various factors that have a strong influence on selling time.
However, on average, house hunting took 68 days last year in the USA, which is a lot less than it was in 2010, when homes stayed on the market for 140 days on average, as the mortgage crisis of the time took its toll. Out of these 68 days, 30 of them relate to the period between the moment the offer was accepted and the closing of the deal, which means that it took 38 days on average before the buyer was found. In this post, we'll take a look at some of the factors that have an influence over the selling time, so that you can get an idea of what to expect when it's time to sell your house.
The asking price
The first factor that has an influence on how long it takes to sell a house is, of course, the asking price. Some sellers make the mistake of trying to sell a home at a higher price than what their property is actually worth, which makes it much harder for them to find a buyer. In fact, it's often a good idea to put your house for sale at a price that's 10 or 15 percent less than what the house is actually worth. This, in turn, may cause a bidding war between a few different buyers, earning you more money in the process and allowing you to sell your home quicker.
Of course, if your house is in a lower price range, it will sell more quickly on average, simply because there are more buyers who can afford it. More luxurious homes in a higher price range will likely spend more time on the market.
The condition of the house
The question of how long it takes to sell a house is also directly connected to the condition of the said house. Namely, those homes that are found in excellent condition when the potential buyers arrive are more likely to sell faster. Buyers are put off by homes that will require a lot of repairs and a lot of time spent on remodeling. On the other hand, installing home upgrades that boost property value should also make it more appealing in the eyes of potential buyers.
Buyers also tend to favor uncluttered homes. When looking at homes, they want to envision themselves and their belongings in that home. In other words, they tend to imagine how the house will look when they're living there. Speeding up your relocation process at the last moment in terms of house-selling is possible – apart from making the house tidy and removing as many personal belongings such as family portraits from plain sight, it is also a good idea to remove any pieces of large furniture. Without such furniture in place, your house will appear bigger and less cluttered.
Location matters
How long does it take to sell a house if it is located next to a freeway? Usually very long. Location plays a very significant role in the amount of time you'll need to sell your home. If a house is located in a good neighborhood, that can boast with having a low crime rate and some excellent schools, on average it will sell much faster than the house that's located in a rundown part of town.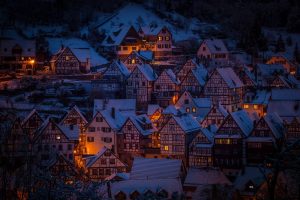 And as we said, houses in the immediate vicinity of a freeway are particularly hard to sell. While the owner of such a house may have gotten used to all the noise, potential buyers will find it jarring and will most likely pass on the property.
Buyers' vs. sellers' market
Then, there's also something called market temperature. Namely, whether the house is put for sale in a buyers' or in a sellers' market can also make a huge difference. In a sellers' market, there are more buyers than there are sellers, which means that it is much easier to sell your house in such conditions. This is another situation when a bidding war might easily occur, and it is not uncommon for a property to sell in a week or less!
On the other hand, in a buyers' market, you'll need to have lots of patience while waiting for the right buyer. As they have plenty of options, buyers are likely to look at more homes until they've found the perfect one. In such a market climate, they can afford to pass on the property that's currently in a good, but not excellent shape.
The time of the year
The weather and the time of the year also have a role in how long it takes to sell a house. Depending on the state, some seasons are usually better than others when it comes to selling your home. For example, in Arizona or in Florida the summers are scorchingly hot, so the people are more likely to look at houses during the colder months of the year. Conversely, in states with more mild summers and colder winters, houses spend a lot more time on the market in December than during the other months of the year.
Usually, after a slower winter period, the number of sales tends to greatly increase once spring arrives. As the school year is drawing to a close, people are more likely to relocate then, and the summer is also a very popular time to move. 
How long does it take to sell a house?
So, as you can see, quite a few factors influence the amount of time it takes to sell a house. On average, houses spend 68 days on the market, but if you're selling a property in a nice part of town, at a sellers' market, for an affordable price, you can expect to sell it faster than that.
Finally, there's also a matter of luck. If the right buyer appears at the right time, it's not impossible to strike a deal after only a few days. However, it would be wise not to count on that, and to adequately prepare in order to speed up the process. Good luck!
Lisa Roberts has been engaged in writing blog articles for the last 7 years. Although she started off her career in the moving industry, her experience brought diversification to the content topics she covers. Today, her range of topics spans from moving across the globe to everyday lifestyle tips, marketing, real-estate news, etc. In her spare time, Lisa enjoys running, reading books and spending time with her dogs Lue and Sill. As a great lover of life, she finds something practical and useful in every experience, which contributes to her portfolio as well.